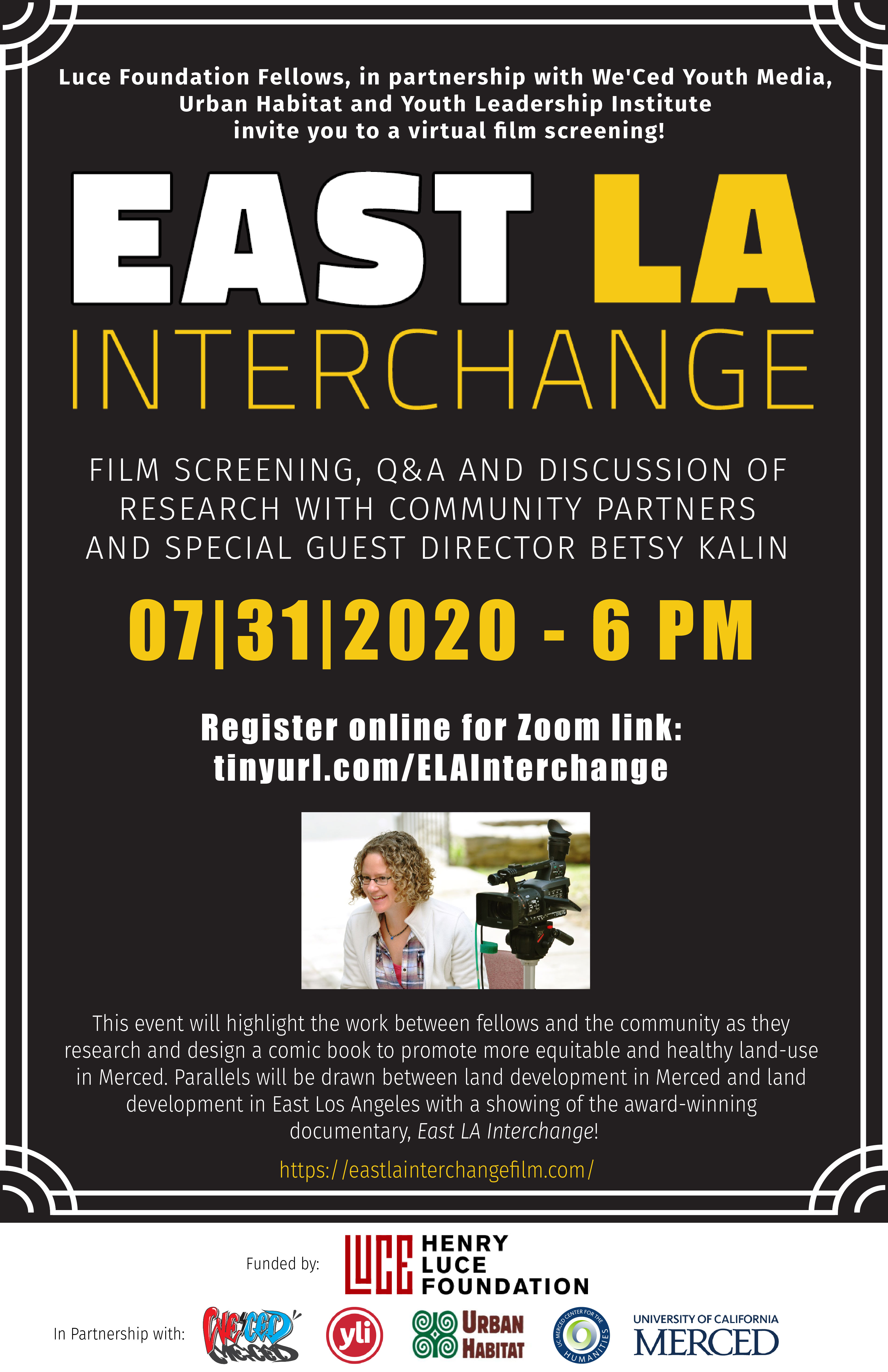 REGISTER HERE
This event will highlight the work between fellows and the community as they research and design a comic book to promote more equitable and healthy land-use in Merced. Parallels will be drawn between land development in Merced and land development in East Los Angeles with a discussion between research fellows, community partners and the film's director, Betsy Kalin. 
About the Film:
East LA Interchange tells the story of working-class, immigrant Boyle Heights, the oldest neighborhood in East Los Angeles. Targeted by government policies, real estate laws, and California planners, this quintessential immigrant neighborhood survived racially restrictive housing covenants, Japanese-American Internment, Federal redlining policies, lack of political representation, and the building of the largest and busiest freeway interchange system in the nation, the East L.A. Interchange. The documentary explores how the freeways – a symbol of Los Angeles ingrained in America's popular imagination – impact Boyle Heights' residents: literally, as an environmental hazard and structural blockade and figuratively, as a conversational interchange about why the future of their beloved community should matter to us all.
East LA Interchange Trailer: https://youtu.be/f1HI4daPWFM
About the Director:
Betsy Kalin is an award-winning director/producer/writer at Itchy Bee Productions. Her Emmy-nominated documentary VISION 2030: FUTURE OF SOCAL premiered on Spectrum News 1 to two million households. Her documentary EAST LA INTERCHANGE has won ten jury and audience awards to date. In 2016, she was the recipient of the Los Angeles City Historical Society's J. Thomas Owen Award for illuminating L.A. history. Her films ROOF, CHAINED!, CLICK, and HEARTS CRACKED OPEN have been honored with multiple awards at festivals around the world. She is currently in development with the documentaries DREAMING IN SOMALI and PHOENIX: THE LIFE AND DEATH OF ALICE HERZ. She is an adjunct professor at Saybrook University and Emerson College Los Angeles. She received a BA in Women's Studies from Columbia College at Columbia University and an MFA in Directing from the University of Miami.
July 31, 2020 - 6:00pm