December 12, 2019 - 12:00pm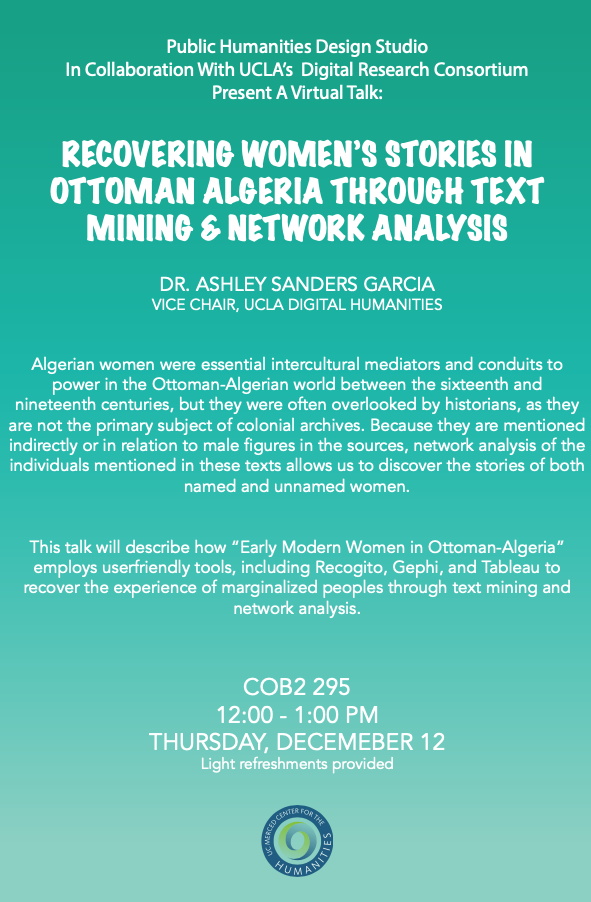 Join the Public Humanities Design Studio in its inaugural talk.
In collaboration with UCLA's Digital Research Consortium, we will be hosting Dr. Ashley Sanders Garcia talk:
"Recovering Women's Stories in Ottoman Algeria Through Text Mining and Network Analysis."
Dr. Garcia will be joining us through Zoom directly from the UCLA campus.
About the presenter: 
Ashley Sanders Garcia is the Vice Chair of the Digital Humanities Program at UCLA. 
She holds a Ph.D. in History with a specialization in Digital Humanities from Michigan State University and a B.S. in both History and Mathematics from Western Michigan University.  
A comparative colonial historian, her research explores the development of settler colonies in the United States and French Algeria. 
Location
Public Humanities Design Studio - COB2 295
Digital Humanities Tools Series